Yeah I get to play! Serenity was needing valentines for her class party. Completely forgot until she reminded me late late night. So I just got out my paper, scissors and tape. Voila! That was all it took and about a half hour later this is what she got. Not my best work but for a kindergarten class it was perfect. Serenity thought they were great just because they were pink. That was all I needed.
Happy Valentines Day!
Now link over to Lit and Laundry, the queen of Finished For Fridays for more great stories.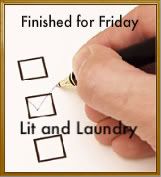 ">/div>